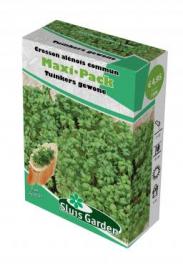 | | |
| --- | --- |
| Article code | SL7300 |
| Latin name | Lepidium sativum |
| Filling | 250 g |
| Germination duration | ca. 2 |
| Sowing temperature | ca. 18ºC |
€ 5,20

Tuinkers kan het gehele jaar binnenshuis worden gezaaid en in de maanden april t/m oktober buiten in de vollegrond. Tuinkers kiemt snel en zeer gemakkelijk. Zaaien binnenshuis op potgrond of watten, in de vollegrond op regels (10 cm afstand tussen de regels is voldoende). Zaai regelmatig kleine hoeveelheden, zodat er voortdurend geoogst kan worden. Als de plantjes ca. 6 cm. groot zijn, het blad afsnijden. Te gebruiken voor salades, garnering is heerlijk op bijv. een sneetje brood met kaas.

LEKKER MAAR OOK LEERZAAM VOOR KINDEREN.

Doe op school bijv. de kiemkrachttest. Zaai 100 zaden uit en bereken het percentage van de ontkiemde zaden. De juf of meester kan je hiermee helpen. Ander idee: Zaai je naam of voorletter op de potgrond/watten en je zal snel resultaat zien. Denk er wel om, dat je naam al snel naar de kapper moet. Dat wordt smullen!
| | |
| --- | --- |
| | Sow indoor |
| | Sow outdoor |
| | Flowering / Harvest |
Related articles