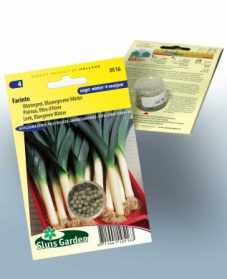 | | |
| --- | --- |
| Article code | SL0516 |
| Latin name | Allium porrum |
| Number of seeds | ca. 200 pillen |
| Germination duration | ca. 20 |
| Sowing temperature | ca. 15°c |
Tuinderselectie. Een winterprei met uitstekende vorstresistentie. Oogstbaar tot einde winter. Produceert een ca. 25 cm lange, donkergroene prei. Zeer goed resistent en na oogst lang bewaarbaar. Bij voorkeur zaaien onder glas of buiten op zaaibed tot half juni. Dun zaaien en als de planten op potlooddikte zijn uitplanten in een plantgat van 18 cm diep. De plant met de wortels op de bodem van het plantgat laten zakken en een beetje water geven. Het plantgat vult zichzelf als de plant gaat groeien.
"Gepilleerde zaden"

Onze pillenzaden worden netjes in een pillenkaart met blister verpakt ter bescherming van breuk. Pillenzaad is handig, omdat het gemakkelijk zaait door de pilvorm. En doordat het direct op de juiste plaats kan worden gezaaid, is uitdunnen niet meer nodig.
| | |
| --- | --- |
| | Sow indoor |
| | Sow outdoor |
| | Flowering / Harvest |
Related articles