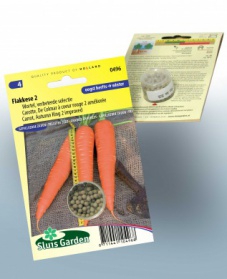 | | |
| --- | --- |
| Article code | SL0496 |
| Latin name | Daucus carota |
| Number of seeds | ca. 200 pillen |
| Germination duration | ca. 20 |
| Sowing temperature | ca. 16°c |
Duidelijke verbeterde selectie van het Flakkese type. Geeft een vrij grove, stompe winterwortel, die geschikt is voor vers gebruik en lange bewaring. Geeft wortels van ca. 30 cm lang. Dun zaaien op regels en na opkomst niet uitdunnen. Zorg voor een diep bewerkte grond, zodat de wortel ongestoord kan groeien. Normaal bemesten en absoluut geen verse stalmest gebruiken. Eventueel afdekken om de schade door de wortelvlieg te voorkomen. Uien of prei tussen de regels planten helpt ook.
"Gepilleerde zaden"

Onze pillenzaden worden netjes in een pillenkaart met blister verpakt ter bescherming van breuk. Pillenzaad is handig, omdat het gemakkelijk zaait door de pilvorm. En doordat het direct op de juiste plaats kan worden gezaaid, is uitdunnen niet meer nodig.
| | |
| --- | --- |
| | Sow indoor |
| | Sow outdoor |
| | Flowering / Harvest |
Related articles